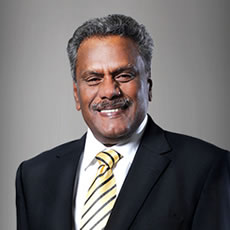 Datuk R. Karunakaran
Chairman
Dear Shareholders,
On behalf of the Board of Directors, I am pleased to present the Annual Report and the Audited Financial Statements of the Group and the Company for the financial year ended 31st December 2022.

BUSINESS REVIEW
The Group's operating segment is solar energy and related businesses.
For the financial year ended 31 December 2022, the Group posted revenue of RM16.28 million which was 10.3% higher than the revenue of RM14.76 million for financial year ended 31 December 2021. The higher revenue was mainly due to revenue from trading of solar panels obtained in the current financial period under review.
The Group posted a pre-tax loss of RM1.55 million for the current financial year as compared against the pre-tax profit for the corresponding period in the preceding year of RM13.01 million. The increase in pre-tax loss of RM14.56 million was mainly due to the impact arising from reversal of impairment loss of an associate listed on Singapore Exchange (SGX) for the financial year ended 31 December 2021 of RM14.86 million to impairment loss of RM4.93 million for the financial year ended 31 December 2022.
The Group's gearing ratio has also improved as compared to year 2021. The lower gearing will act as an enabler for the Group to implement its strategic expansion plans in solar renewable energy projects.
Despite the challenging economic situation, the Group's solar energy business, both the installed 11MWac capacity solar plants in Penang and Kedah, owned and operated by the Group were minimally affected by the Covid-19 pandemic.

MOVING FORWARD
Moving ahead, the Group will actively invest and implement projects which complement the Government's initiatives to reduce carbon footprint.
In 2021, the Malaysian Government through the launching of Malaysia Renewable Energy Roadmap for 2022 to 2035 has set target to reach 31% of renewable energy share in the national installed capacity mix by 2025. This target supports Malaysia's global climate commitment is to reduce its economy-wide carbon intensity (against GDP) of 45% in 2030 and a further reduction of 60% in 2035.
With the continuing encouragement from the Malaysian Government through initiatives and pro-active measures,
the Group sees great potential and vast opportunities in this growing renewable energy industry.
Globally, we are witnessing an ongoing worldwide energy shortage, environmental crisis and rising energy costs. Along with this, we see rising concern for climate change and sustainability, and increased ESG considerations.
In a rapid evolving and competitive environment, we remain highly committed to continuously strengthening synergies on our focus in renewable energy industry. With the Group's proven track record in implementing and operating solar projects coupled with the improved cashflow, we are well positioned to scale up our solar businesses to generate higher sustainable earnings for the Group.
DATUK KAROWNAKARAN @
KARUNAKARAN RAMASAMY
…………………………………………………..
Chairman