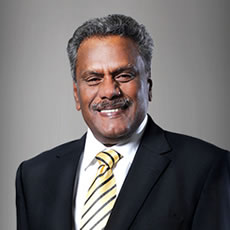 Datuk R. Karunakaran
Chairman
Dear Shareholders,
On behalf of the Board of Directors, I am pleased to present the Annual Report and the Audited Financial Statements of the Group and the Company for the financial year ended 31st December 2021.

BUSINESS REVIEW
For the financial year 2021, the Group recorded total revenue of RM14.76 million, which grew 77.1% from RM8.33 million in 2020. Our profit for the financial year from continuing operations increased by 207.1% from RM11.62 million loss to RM12.44 million profit. This is mainly driven by the new solar related projects secured during the financial year, increase in value of investment in Hengyang Petrochemical Logistics Limited of RM14.86 million and cost savings from the effort to reduce in nonessential expenditures.
Despite the challenging economic situation, the Group's solar energy business, both the installed 11MWac capacity solar plants in Penang and Kedah, owned and operated by the Group were minimally affected by the Covid-19 pandemic.

MOVING FORWARD
Moving ahead, the Group will actively invest and implement projects which complement the Government's initiatives to reduce carbon footprint and improve sustainability/environmental, social and governance ("ESG").
The Group was not successful in the tender of Large Scale Solar @ MEnTARI (LSS 4), however we will continue to bid for future LSS projects and at the same time to seek for other solar projects from both public and private sectors such as investment and outright sale of solar rooftop projects.
In 2021, the Malaysian Government has set target to reach 31% of renewable energy share in the national installed capacity mix by 2025. This target supports Malaysia's global climate commitment to reduce its economy-wide carbon intensity (against GDP)
of 45% in 2030 and a further reduction of 60% in 2035. With the continuing encouragement from the Malaysian Government through initiatives and proactive measures, the Group sees great potential and vast opportunities in this growing renewable energy
industry.
In a rapid evolving and competitive environment, we remain highly committed to continuously strengthening synergies on our focus in renewable energy industry. With the Group's proven track
record in implementing and operating solar project coupled with the improved cashflow, we are well positioned to scale up our solar businesses to generate higher sustainable earnings for the Group.

APPRECIATION AND ACKNOWLEDGEMENTS

On behalf of the Board of Directors, I wish to thank and express our deepest appreciation to the management team and our employees, for their tremendous efforts and contribution during this challenging time. Last but certainly not least, I would like to express our appreciation to our valued customers, business partners, bankers, government departments and agencies, shareholders & stakeholders for their continuing support to the Group. With this continuous support from all parties, we will dedicate our efforts to improve profitability and enhance shareholders' value.
DATUK KAROWNAKARAN @
KARUNAKARAN RAMASAMY
…………………………………………………..
Chairman