Solar Renewable Energy Ventures
In year 2015 the Group ventured into solar energy business in tandem with the Malaysian government's strategies and initiatives to focus on renewable energy (RE) as an alternative electricity generation source and to reduce reliance on coal in the future.
As at the end of year 2017, the Group has invested a total of RM100 million in two solar power plant in Malaysia, with total capacity of 11MWac, through its subsidiaries, as follows:-
EVN Vision Sdn Bhd – 1 Mwac Solar Power Plant in Seberang Perai, Penang
In year 2015, the Group acquired a company, EVN Vision Sdn Bhd ("EVN"), which has secured an approval from Sustainable Energy Development Authority Malaysia (SEDA) for setting up a 1 MW solar power plant in Seberang Prai, Penang, under the Feed-in Tariff (FIT) program.
A Power Purchase Agreement was signed on 19 Jun 2015 for supplying energy to Tenaga Nasional Berhad ("TNB")for a 21 years term.
The solar plant was constructed and successfully commenced operation on Dec 2016.
Under SEDA Feed-in Tariff Scheme
21 years Power Purchase Agreement with Tenaga Nasional Berhad ("TNB")
Commercial Operating Date : 8 Dec 2016
IL Solar Sdn Bhd – 10 Mwac Solar Power Plant in Bukit Kayu Hitam – LSS1
The Group through its 100% owned subsidiary, IL Solar Sdn Bhd ("IL Solar") was awarded the development of the 10.0 MW large scale solar PV plant under the Energy Commission's 1st Large Scale Solar Photovoltaic Plant ("LSS") program in year 2017, and entered into Power Purchase Agreement ("PPA") with Tenaga Nasional Malaysia ("TNB") for a concession period of 21 years.
The location of the LSSPV plant is in Bandar Bukit Kayu Hitam, Kedah and the plant has been successfully energised in Dec 2017, being the first solar plant to be energised under LSS 1 program.
Under Energy Commission's 1st Large Scale Solar Photovoltaic ("LSS 1") program.
21 years Power Purchase Agreement with Tenaga Nasional Berhad ("TNB") signed in March 2017.
Commercial Operation Date : 22 Dec 2017
ILB Solar Renewable Energy Corporate Structure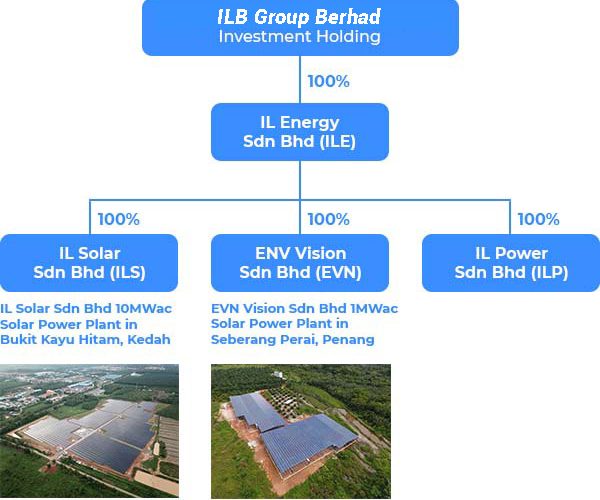 Achieved track record of securing 10MW of Large Scale Solar ("LSS") and the first LSS to commissioned in Malaysia
With management experience in securing, developing and commissioning of LSS
As a result of being the 1st LSS to commission, IL Solar has established good reputation with authorities
Currently operating 11MW of solar power projects in Malaysia
Certificates & Registrations
Sustainable Energy Development Authority Malaysia (SEDA Malaysia) – Registered Solar Photovoltaic Investor Under NEM Programme
Sustainable Energy Development Authority Malaysia (SEDA Malaysia) – Registered Photovoltaic Service Provider
Ministry of Finance Malaysia – Company Registration Declaration Certificate
Tenaga Malaysia Berhad – Certificate of Registration as Supplier and Contractor